About Us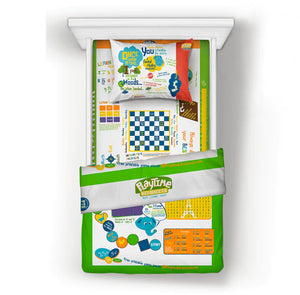 Why Playtime Bed Sheets…
I originally designed Playtime Bed Sheets for hospitalized children and shelters, but soon realized they were perfect for kids everywhere! These bed sheets and slumber bags can transform a bed into an exciting Edventure, with over 65 interactive games for children to explore, play, learn, sleep, and just be kids. The bed sheets come in three colors, while the slumber bags come in two. They provide the perfect sleep sack, play mat, and bed cover for children to cozy up in. Best of all, you can play all Playtime games with just printable game pieces or coins. Playtime products are a great alternative to excessive TV watching, electronic devices, and boredom. They're fun for the whole family!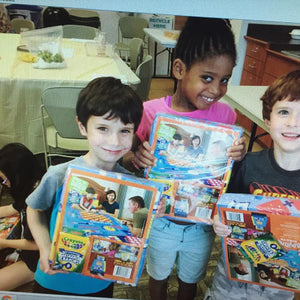 Make a Purchase, Make a Difference
Our goal from the start has been to offer our interactive bedding products to hospitalized children and organizations that provide safe beds for displaced children. By purchasing a Playtime product for personal use, you help us donate to hospitals and organizations that provide safe beds for displaced kids. We have already donated over 7,000 Playtime Bed Sheets, slumber bags, and pillowcases to hospitals, shelters, foster homes, juvenile detention centers, camps, and organizations that assist in natural disasters. We are able to achieve this with the help of people like you who support us.
Quality Products
Our Playtime Bed Sheets and slumber bags have undergone years of research and development to ensure that children can enjoy using them as they grow up. We take pride in rigorously testing each item for both comfort and durability and constantly strive to innovate and improve. Our priority is not only to provide fun playtime products but also to ensure that they are soft and cozy for kids to play on during the day and sleep on, night after night.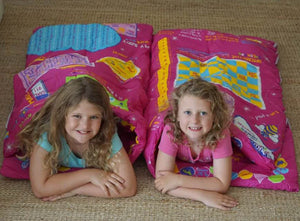 Our Kids Matter
Our Playtime Bedsheets, slumber bags, and pillowcases provide a soothing environment for children in hospitals and shelters, but they are also suitable for children at home. They offer a great alternative to excessive TV watching and electronic devices.