After a trip to visit a friend's son at a local pediatric ward left Kevin Gatlin disheartened, he became determined to make lengthy hospital stays more comfortable for kids and parents alike. He thought about how his kids utilize the limited space in their own bedrooms by playing games, doing homework and reading on their beds. From this point, Kevin let his imagination run wild and created Playtime Bed Sheets, interactive sheets to help keep kids entertained from the comfort of a bed. 
In 2012, Kevin began researching and piloting his bed sheets with the help of local educators. By 2014, they were ready to launch with bedspreads, pillowcases and sheets containing 60 games in five foreign languages and various educational materials to keep kids entertained. 
Unsurprisingly, the bed sheets caught the eye of various organizations and local hospitals. By 2020, Playtime Edventures' bed sheets were standard issue in 20 hospitals across the United States and in two hospitals internationally. However, the sheets have not only been popular in hospitals as Kevin intended. You can now find Playtime Bed Sheets in shelters, orphanages and even juvenile detention centers.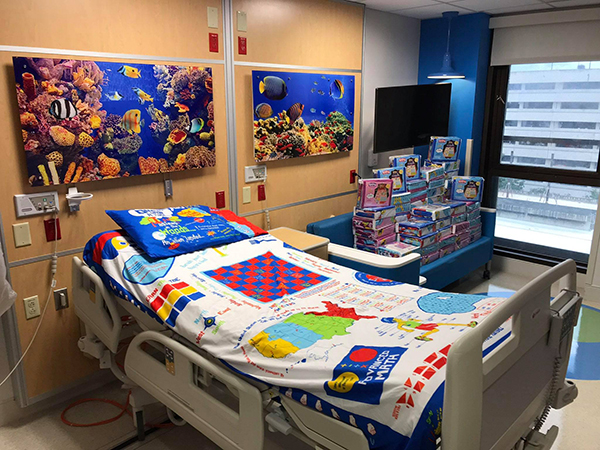 Despite the success of his product, Kevin has been far from immune to the impacts of COVID-19 economic fallout. Last March, hospitals ceased accepting donations from the organizations that make up Kevin's main client base and he started seeing delays and price hikes in his supply chain. 
He explains, "Even though the price of production has gone up, I can't charge my customers more. Larger companies can absorb these costs. It's not so easy for small businesses."
As a solo-entrepreneur, Kevin didn't qualify for funding through federal programs. Knowing he would have to bootstrap his business, for the time being, Kevin was determined to keep his business afloat as he turned to retail. As he waited for hospitals to start accepting donations again, he worked hard to sell his products online and to work with toy shops to get his bed sheets in brick-and-mortar stores. 
Kevin is no stranger to bootstrapping because he has always had to self-fund his business. He explains, "As an African American, we don't have the same access to resources or the knowledge of how to go out and raise capital in our community that many other entrepreneurs have." He goes on, "If you knock on the door a couple of times and no one comes, you just move on."
And move on he did. Already this year, Kevin signed a contract with a large hospital supply store, started prototyping new disposable bed sheets for a hospital, and, this month, Playtime Bed Sheets were even featured along with 20 other Black-owned small businesses on QVC in celebration of Black History Month. 
Kevin advises his fellow small business owners, "Be patient at the beginning and take the time to learn if you can do the things you would normally hire someone else to do. You will save a lot of money."